by Nik Ellis
Sixty odd years ago my father was an engineer for Jaguar at their factory in Coventry, with a large part of his roll involving testing and test driving E-Type Jaguars, including some time spent in Jaguar's Experimental Department.  It seems somewhat fitting that as we celebrate 60 years of this iconic vehicle, to road test an early example to see how it shapes up in today's world.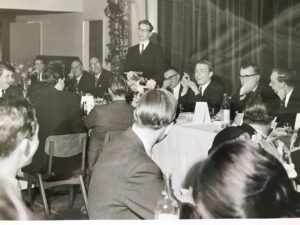 Enzo Ferrari described the E-Type as "the most beautiful car in the world" and indeed it caused a huge sensation when it was revealed at the Geneva Motor Show in March 1961. 
Little did the gasping journalists realise, but that first E-Type had arrived just 20 minutes earlier, having been driven directly from the Coventry factory flat out by Bob Berry. 
It made such an impact that they sent a second, driven throughout the night, to satisfy the interest.
Based on their highly successful racing car, the D-type, the first E-Type Series 1 was launched with a six cylinder 3.8 litre engine, fuelled by triple carbs.  Weighing in around 1,300 kg meant it was pretty quick, placing it in direct competition with Ferrari, Lamborghini & Porsche.  The later Series 1 models were fitted with 4.2 litre engines, which increased torque more than acceleration, however Autocar tested it & recorded a 0-60mph acceleration time of 7.6 seconds & described it as "the fastest [car] we have ever tested".
My father recalls spending an entire morning being driven round MIRA's high speed oval by Jaguar's chief test driver, Norman Dewis.  Sounds great but he was given the illustrious task of taking temperature readings, so had to climb from the passenger seat to the very back, as the car lapped at 120mph.  He proudly recalls how he was the only tester doing this who managed not to throw up!
In those days it was important to 'run-in' a car.  My father was tasked with putting on a few thousand miles on a press car, so spent a week travelling from Coventry up to his mum's in Liverpool.  He would drop his laundry & head back to Coventry for lunch, then back up to Liverpool in the afternoon & back to Coventry with a boot full of clean washing.
With relatively limited numbers built, the values of these vehicles, whilst a little up & down over recent years, have climbed solidly overall, although this was not always the case.  My father recalls one of the last ones sitting for months in W Watson's Jaguar dealership eventually being given away at cost, around £2,000.  A good example can now be worth hundred times that.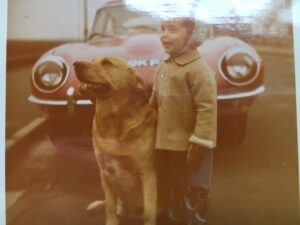 I heard plenty of stories as I was growing up about E-Types & even vaguely remember riding in my father's, so when the opportunity arose to drive one, I jumped at it.  The model I drove was a later Series 1 with the 4.2 six cylinder block.
First impressions are everything.  The car is a piece of art.  Admiring the dimensions of the bodywork & the almost effortless flow of its lines, it's easy to see how it still regularly appears in the most beautiful car in the world lists.  It turned a lot of heads as I drove around.
The bonnet is enormous, nearly half the car's length and it doesn't shrink from the driver's seat.  Both front & rear lines flow into the profile of the car & it's difficult to find an angle where it doesn't look like something organic.
Climbing inside wasn't exactly easy (or elegant) but once inside it feels (& smells) luxurious from the seats & trim to the dashboard & instruments.  Some classic cars can feel a little basic, but there's a decent amount of equipment & comfort in this cabin.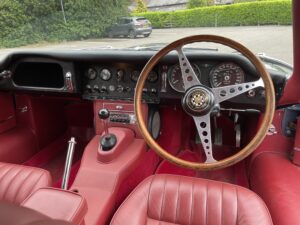 Firing up the engine felt smooth & with a good exhaust note.  Having changed gears with column paddles for the last few years, I drew on my memories of how a clutch operated, and off we went.  Several things went through my head for the first few miles.  Firstly I was a quite surprised how well the engine picked up; this is no slouch even by today's standards & I would have little issue driving this in everyday traffic.
The steering wheel is enormous yet very thin and made of wood.  It's connection to the front wheels seems miles away.  It feels slightly like the front has started turning before the rest of the car.  That took a bit of getting used to.  Went to check my mirrors, but wait, they don't have them on either door.  Apparently this was a thing in the Sixties.  I'd have sacrificed one of the three wipers to have a door mirror.
The torque is great even at lower revs which gives it plenty of power almost irrespective of speed / gear choice.  It felt stable, even at speed & the more I drove it & the more familiar I became with the fairly predictable handling & engine pull.  The brakes are tough to push & I could imagine a sore quad after a week in it, but they do work if you push them hard enough.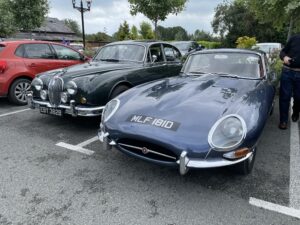 Overall I'd have to say that I was much more impressed than I expected.  They say don't drive your heroes, yet here is a car that's stood the test of time; it appears stunning from every angle & looks like it's built to go fast.  It drives well, with a good turn of speed & could hold its own against some modern hot hatches.  An expensive weekend car, but something very rare, incredibly beautiful and an appreciating asset to have in the garage.
Reproduced with kind permission from Wirral Life Magazine