As our Engineer Academy approaches the end of its first year, we look back & debrief at the achievements, the successes and the obstacles that we've faced along the way.
The vision of the Academy was to support the steps of an engineer's journey, from rookie to fully qualified, with a mix of formal, external and internal training and mentorship.  This gives members of our teams clear options and directions to develop themselves & their career path.
So far this year we have managed to upgrade Lauren into a junior engineer within the desk top team, during her first year of employment.  Having spent some time in the query department she has demonstrated great flare & understanding of engineering.
Becky has progressed into desktop engineering.  A huge motorsports fan Becky has trained & developed hitting her first goal to join the desk team.
Adam has shown great promise within the engineering department and is currently setting his sights on a leadership role.  We have no doubt that he'll become an excellent manager in time.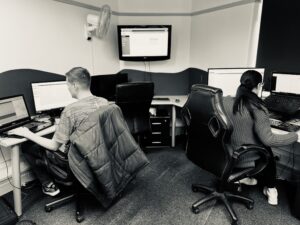 The rest of the teams are also progressing really well & have embraced our philosophy of Kaizen, a continually improving system of working, together with upside down management, where we trust our colleagues to use best judgement to get their job done in the way that works best for them.  This has led to multiple hacks and a general evolution of our systems, driving greater efficiency and we've even seen a marked increase in staff happiness.
The Academy is still in its first year & we achieved a fair bit & been more successful than predicted.  We've also made a few mistakes along the way, which have been great learning processes; sounds cliche but in our case it's true.
This initial year has proved to be an incredible foundation for moving upwards & building on the lessons & outcomes of the first year.
MD Nik Ellis said, "The Academy has been a bigger success than perhaps we planned, but this simply solidifies our commitment to a constant training & development program, which lends itself to practical skills & competence ultimately leading to a more efficient company and motivated teams." 
We will be looking to take on a couple of enthusiastic trainees or apprentices in the New Year, so to register your interest please message Lucia here