We are delighted to announce that three of our team are now fully qualified engineers having recently passed their IMI accredited qualification.
Lauren, Becky & Liam have moved through our Engineer's Academy and now realised their goals of becoming full VDA engineers.
MD Nik said, "It's great to see the Academy producing results and I'm very proud that these three have come through the ranks to reach their potential as qualified engineers."
According to the Institute of the Motor Industry, the Vehicle Damage Assessor (VDA) route is intended for individuals whose job role involves the estimating of vehicle damage repairs which are involved in accidents or similar incident circumstances.
They state that the individual should be working in the accident repair sector of the industry and have at least three years' experience to ensure they are familiar with the skills, knowledge and techniques required to determine the vehicle damage, identify the correct safe repair method to return the vehicle back to its pre accident condition.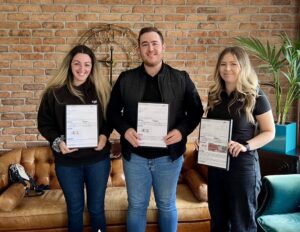 Liam said, "Starting at Lairds with the query team around 5 years ago I always wanted to progress and become a qualified engineer.  After moving into the training academy and starting my journey a couple of years later, I managed to do so with the help of the team. Extremely proud to have passed and all thanks to Lairds."
Lauren added "After progressing through the company I am proud that I've now qualified as an engineer. Being with Laird for less than 2 years, I am grateful to management team for pushing me to achieve all that I have in such a short space of time."
If you'd like details of how to apply to our Academy, contact us here.